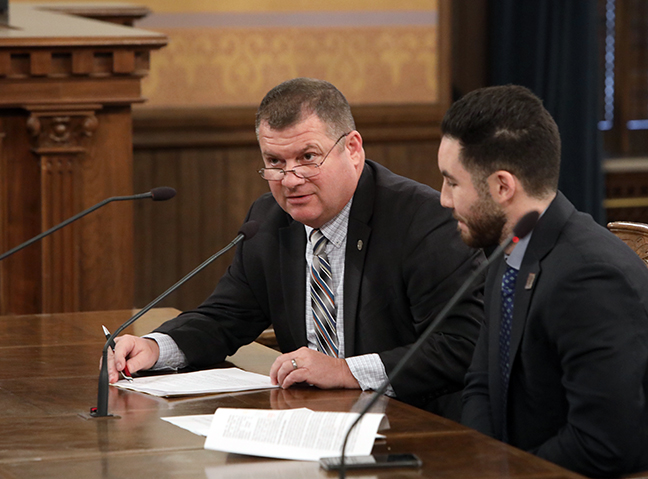 Committees
Workforce, Trades & Talent (Democratic Vice Chair)
Appropriations
General Government (Democratic Vice Chair)
Corrections
Transportation
State Rep. Terry J. Sabo is serving his third term representing Michigan's 92nd House District, which includes the cities of Muskegon, Muskegon Heights and North Muskegon along with the townships of Muskegon, Laketon, Fruitland and Whitehall. Rep. Sabo currently serves on the House Appropriations Committee and its subcommittees on Transportation, Corrections and General Government – where he serves as the minority vice chair. Rep. Sabo also serves as the minority vice chair of the House Workforce, Trades, and Talent Committee and as chair of the Michigan Legislative Labor Caucus.
Rep. Sabo has always put his community first. As a lifelong resident of Muskegon County, he has dedicated his time to developing a safer, more prosperous Muskegon. He served four years in the United States Air Force as a security policeman before his more than 25 years of employment as a City of Muskegon Heights firefighter and police officer. During his career, he has also worked part-time for the City of North Muskegon Police Department and the Muskegon County Sheriff's Department. From 2011-2012, he served as a Muskegon County Road Commissioner before being elected to the Muskegon County Board of Commissioners in 2012. His colleagues elected him chairman of the Muskegon County Board of Commissioners in 2015 and again in 2016.
Rep. Sabo strongly believes in civic service and is a member of several service organizations including the Veterans of Foreign Wars Auxiliary Post #8846, American Legion Post #9, Muskegon Northside Lions Club, Muskegon Heights Optimist Club, and many others.
Terry is married to Denise, and together they have four children and nine grandchildren. He and Denise reside in Laketon Township.