Dear Friends and Neighbors,
Welcome to my e-newsletter! As always, I am honored by the opportunity to represent you in Lansing. I encourage you to stay up to date on what's going on at the Capitol and continue to let me know of the issues you care about most.
In this Edition:
Auto Insurance Town Hall
Community Block Club Spotlight
Auto Insurance Town Hall
Earlier this year, the Legislature came together to address the sky-high cost of auto insurance in Michigan. While the legislation that ultimately passed is only the first step in the conversation, Public Act 21 of 2019 represents progress toward providing Michigan drivers the comprehensive auto insurance reform they've been waiting for.
PA 21 works to lower costs by prohibiting the use of nearly all non-driving factors in rate setting, improving patient protections, increasing rate transparency and implementing meaningful insurer accountability. We may have made important strides toward delivering the real rate relief Michiganders need, but reform has only just begun.
On Monday, August 19, starting at 6 p.m. at Third New Hope Baptist Church, 12850 Plymouth Road in Detroit, I will be hosting a town hall to discuss the new law and how it will affect you. I hope you will be able to join me, even if you can't be there in person, so I will also be streaming the town hall live on my Facebook page @StateRepWhitsett*.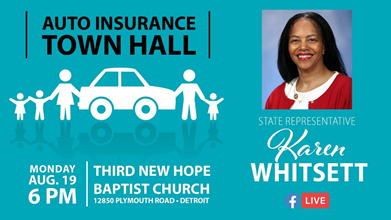 We will be discussing vital information, so I hope to see you either face-to-face or online!
Community Block Club Spotlight
The Artesian Block Club is a tightly knit block club of diverse neighbors. Recently they saw a problem occurring on their block and decided it was time to act.  At the end of their street is an intersection that has a confusing right of way that has led to many accidents in the past.
This intersection is not far from schools, mosques, and churches, potentially endangering many people.  Nancy and David Vanalstyne and their block club acted and brought it to our office's attention. My office then coordinated with MDOT and ensured they inspected the intersection. Now, as a result, additional signage is in place to clear up any confusion with right of way.
The Artesian Block Club's help put an end to a serious and dangerous situation. Keep up the great work and thank you for being involved and caring about your block and city.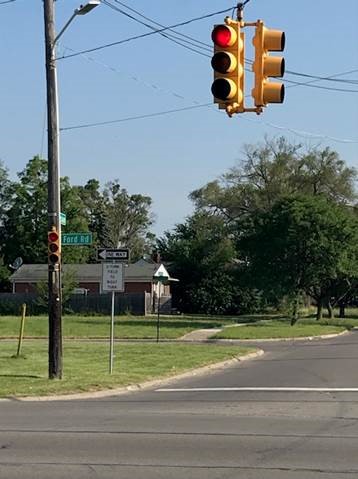 The photo shows the newly erected MDOT sign clarifying the right of way at the Artesian and Ford Road intersection. 
Sincerely,
State Representative Karen Whitsett
9th House District