Dear Friends and Neighbors,
In this edition of my e-newsletter, I wanted to remind you about my upcoming coffee hours tomorrow, Friday, April 26, from 10 to 11 a.m. at McDonalds, 15501 Plymouth Road in Detroit and from noon to 1 p.m., at Mary's Grill, 20804 Plymouth Road in Detroit.
Please join me to discuss important ways we can make our community a better place to live, work and play. I hope you will be able to join me, but if you can't, and you have questions, ideas or concerns about state government, please reach out to me so we can work together.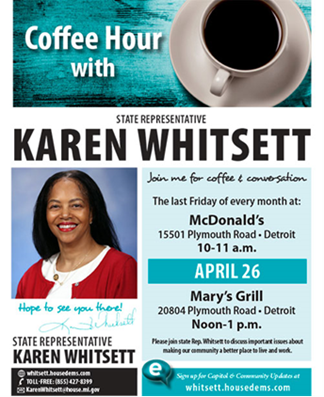 Sincerely,
State Representative Karen Whitsett
9th House District