Hello Friends,
It's been an eventful summer of connecting with community members and hearing what you'd like us to prioritize as legislators return to session. As the new school year ramps up, I'd like to share some of what we've accomplished in Lansing this year to support our children and youth. This year's education budget was the largest in state history and bolsters education for all students in numerous ways.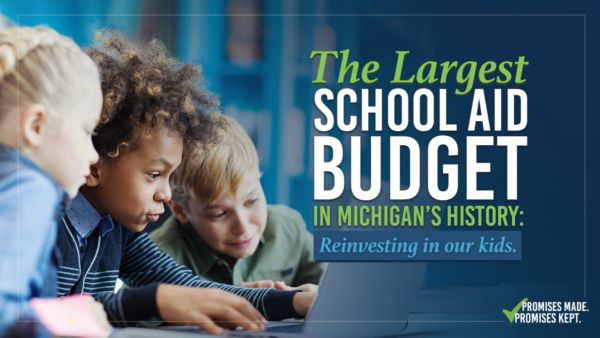 We Established Free Breakfast and Lunch for All K-12 Public School Students
We worked hard on the "Make it in Michigan" budget that Gov. Whitmer signed into law, which provides free breakfast and lunch for all K-12 public school children in Michigan. These meals benefit Michigan's 1.4 million public school students. This will save families an average of over $850 annually per kid, plus precious time in the morning.
We Increased Per-Pupil Funding by 5%
Our budget also included $611 million to increase per-pupil funding by 5%. This boost of $458 per student sums to $9,608 per pupil, the highest in Michigan history. Since Gov. Whitmer took office, per-pupil funding has increased by 22%. Also, we allocated additional funding for students with disabilities and economic disadvantages to equitably support all students. In total, Plymouth-Canton Community Schools can expect to see an additional $10.5 million in funding this year!
We Centered Mental Health and School Safety
Mental health is a top priority. I'm proud that our budget includes $328 million to fund student mental health and support services. This funding enables districts to buy and implement tools to recognize behaviors that could necessitate intervention from early on.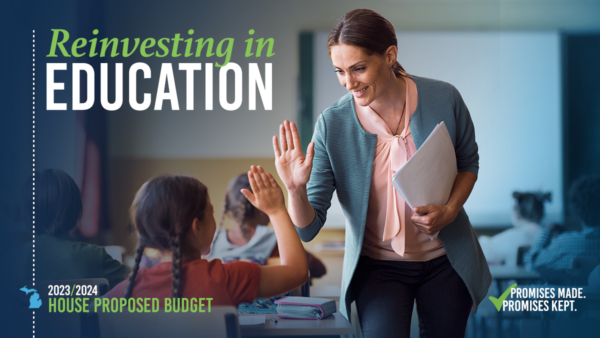 We Created a Healthy Rainy Day Fund for Schools
To prepare for future challenges, we created a new rainy day fund for schools and deposited $450 million to start. This investment strengthens the state's public education system by setting up a safety net to ensure financial stability in the future.
We Implemented the Michigan Clean School Bus Program
Our budget includes $125 million to fund matching grants for school districts to electrify their bus fleets. Many of our state's school buses currently run on diesel, exposing students to air pollution that has been linked to respiratory illnesses including asthma. Electric school buses don't have tailpipe emissions, which will help keep our kids safer and our air cleaner.
We Funded Vocational Education and Equipment Upgrades
Our budget includes $15 million to support career and technical equipment upgrades and vocational education. We're committed to ensuring students on all paths have the resources they need to thrive.
Sincerely,
Ranjeev Puri
State Representative, 24th District
Proudly serving Canton Township