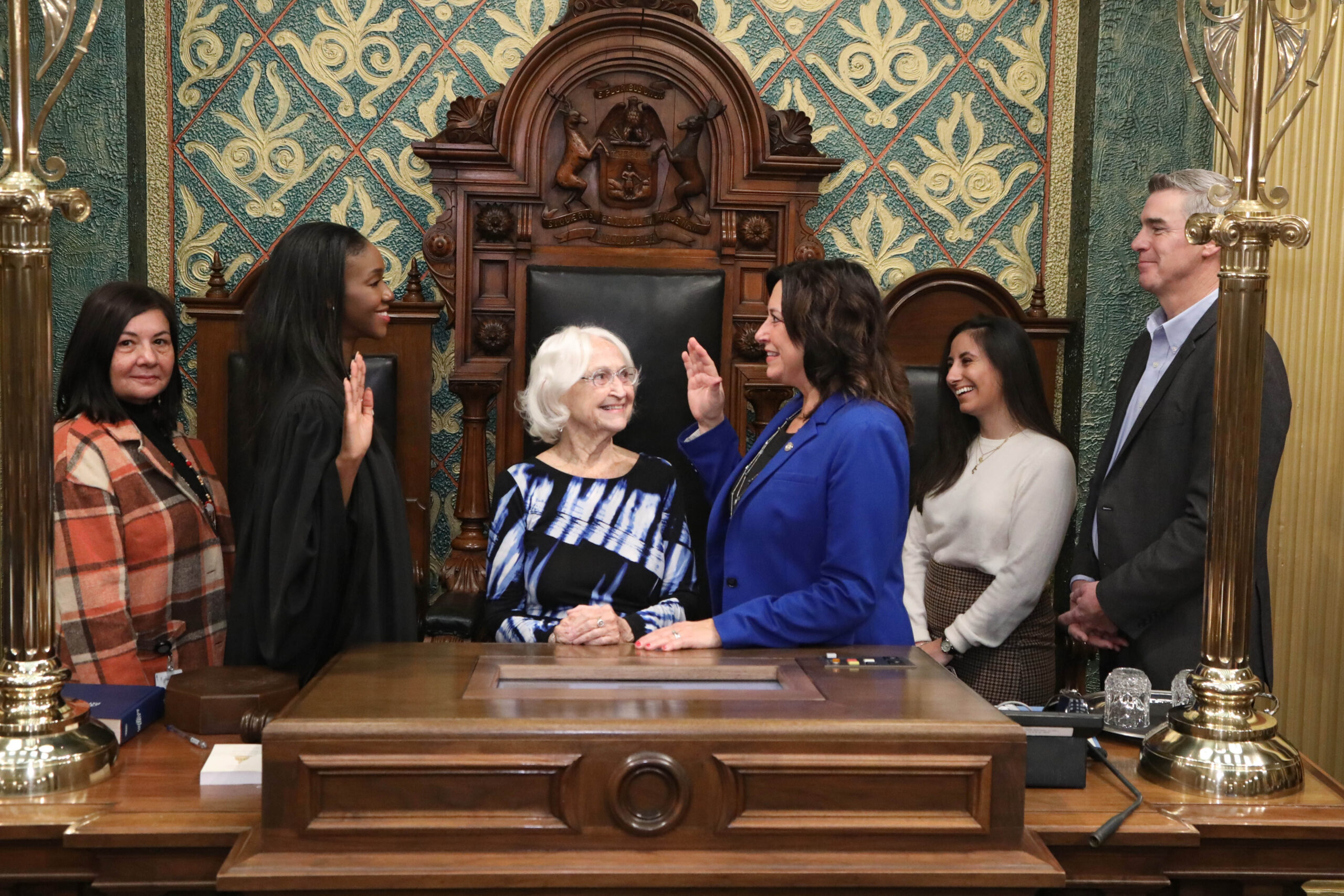 Michigan Supreme Court Justice Kyra Bolden (second left) swears in state Rep. Angela Witwer, who was joined by her family and supporters, at the Michigan Capitol on Wednesday, Jan. 11, 2023.
LANSING, Mich., Jan. 11, 2023 — State Rep. Angela Witwer (Delta Township) was sworn in today as state representative for her third legislative term. The swearing-in ceremony marked the formal opening of Michigan's 102nd Legislature and the first day of House Democrats having the majority in over a decade. Witwer served as the Democratic caucus campaign chair and the chair of the Committee on Committees. Speaker-elect Joe Tate (D-Detroit) has appointed her the chair of the influential House Appropriations Committee, which sets expenditures for the state of Michigan, including making decisions on the state's annual and supplemental budgets. 
In her first act this term, Witwer introduced the very first bill of the 102nd Legislature, House Bill 4001, to repeal the 2011 retirement tax. The tax has caused significant financial hardship for Michigan retirees since it was signed into law by former Gov. Rick Snyder. Witwer introduced the bill previously in 2019 and 2021, but it never received a hearing in committee.
"We cannot balance the budget on the backs of seniors," Witwer said. "Responsible Michiganders who have saved and planned for their retirement for their entire lives should not see their fixed incomes reduced. It is time to eliminate this unfair tax burden heaped upon Michigan's retirees."
The retirement tax implemented a tiered structure for tax increases on retired public employee pensions while Snyder slashed taxes on businesses by over $1 billion. Since the retirement tax was enacted, retirees across Michigan have watched their income shrink as the cost of living increased. The retirement tax diminishes the annual income of 500,000 Michigan households by an average of $1,000 per year.