Gov. Whitmer Signs Young-Sponsored Bill into Law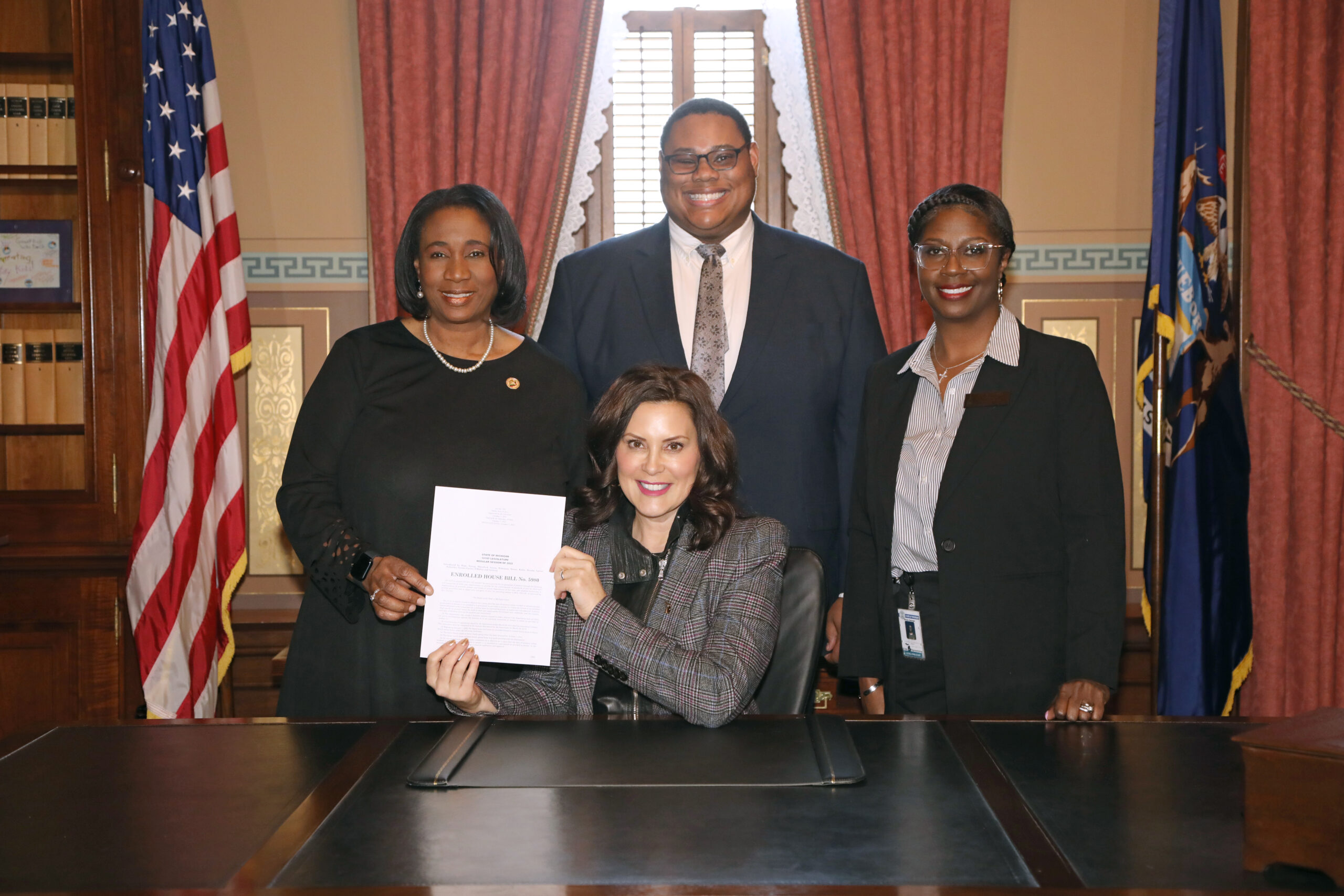 LANSING, Mich., Dec. 22, 2022 — A new law that streamlines the foster home licensure process, reduces paperwork for high-quality caregivers and provides more stability for youth in the foster care system was signed by Gov. Gretchen Whitmer last week. State Rep. Stephanie A. Young (D-Detroit) introduced House Bill 5980 (Public Act 205) earlier this year as part of a bipartisan bill package recommended by the House Adoption and Foster Care Task Force. Starting Jan. 1, 2023, Public Act 205 requires the Michigan Department of Health and Human Services (DHHS) to issue extended three-year licenses to foster family homes and foster family group homes under certain conditions.
"I am grateful for the opportunity to have worked on the bipartisan Foster Care and Adoption Task Force, which inspired me to introduce legislation that will help provide more stability for foster children," Young said. "I am currently working with foster kids, parents, MDHHS, the Michigan Department of Education and other stakeholders to address the education of our children in foster care. We have a moral obligation to care for and educate these children. I will continue to fight for them to lead as normal a life as possible under the difficult circumstances they've found themselves in through no fault of their own."
Nearly 2,000 foster homes closed in Michigan in 2020, largely due to the high demands placed on foster parents. A consistent example of these demands was the licensure process and the accompanying paperwork. Many foster parents cited that numerous required forms are duplicative, intrusive and filled with unnecessary red tape. To address this concern, the House Adoption and Foster Care Task Force recommended the creation of an "extended license" for licensed foster homes in good standing with MDHHS to help reduce the occurrence of license renewals.
In the new year, MDHHS will be able to issue an extended license to a foster family home or foster family group should they meet the following conditions:
Be licensed for at least one year.

Be in good standing with the department.
The extended license will be effective for three years after the date of issuance, unless revoked or refused renewal and must be renewed every three years. These changes will ensure good foster care providers can continue to provide the best care possible for children in the foster care system without extensive, repetitive and unnecessary paperwork. Public Act 205 also ensures that foster homes that aren't meeting the expectations for providing a safe, loving home for Michigan's vulnerable and at-risk youth will not be able to receive an extended license.
###