Dear friends,
Hello, and welcome to my first e-newsletter!
First of all, I would like to take this opportunity to thank you for allowing me the privilege of serving as the representative of the 71st House District. My job is to work in the Legislature on your behalf, and I will be most effective when doing so as a result of your direct input. With that, I encourage you to reach out to me and my staff with any questions, comments or concerns that you may have regarding our community or the state. You can contact me by phone at (517) 373-0853, by email at AngelaWitwer@house.mi.gov, or by visiting my website, repwitwer.com. I look forward to hearing from you.
In this Edition
What to Expect
About Me
Meet My Staff
Upcoming Coffee Hours
Legislative Update
Local Business Feature
Constituent Contact
What to Expect
You can expect to receive a new issue of this e-newsletter every two weeks. Within those issues, you can expect information on:
Upcoming Coffee and Happy Hours: I will keep you updated on my upcoming coffee and happy hours where we can meet in an informal setting and discuss your thoughts, issues or concerns.
Legislative Updates: A general rundown of the recent legislative happenings in Lansing.
Local Business Feature: Small businesses are the backbone of every community. As a small business owner myself, I understand that better than most, and recognize the hard work it takes to become successful. Every two weeks, I will feature a local business in my e-newsletter highlighting a business in our district.
Constituent Outreach: A short summary of what issues we've been hearing about most from you, the people of the 71st District!
About Me
The 71st District is my home — I've lived in the area for the majority of my life. I am a proud alumnus of Waverly Community Schools, and Northwood University. I began my professional career working in Sparrow Hospital's burn unit, then as the hospital's manager of pediatric rehabilitation, and eventually became manager of Sparrow's community relations and marketing department.
After over 20 years in health care, I left to co-found a public relations, marketing and advocacy group called Edge Partnerships. I have also served as vice president of Waverly Community Schools' Board of Education, and for some time was a member of the Lansing Regional Chamber of Commerce Economic Club, board member of Wharton Center for Performing Arts, and board member of McLaren Greater Lansing Foundation.
I live in Delta Township with my husband, and enjoy spending time with my children and grandchildren.
Meet My Staff
I am excited to have both Joe Fedewa and Chelsea Fraley on my team for this session. Both of them are from the 71st House District and understand the intricacies of our communities. Joe gained valuable experience working as legislative director for former state Rep. Tom Cochran, and he will work in that same role in my office. Chelsea previously worked as a public relations intern at my small business, Edge, and worked as the field director on my campaign team — she is my district director. I have the utmost confidence in both of them, and together we are ready to do whatever we can to serve the people of our community.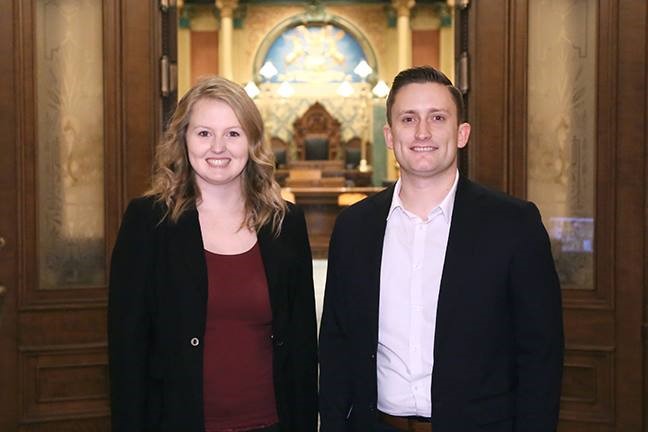 Chelsea Fraley (left) and Joe Fedewa (right).
Upcoming Coffee and Happy Hours
These coffee and happy hours give us the opportunity to meet in person and have informal conversations regarding issues concerning our community and state. This is a great way to help me understand the issues you care about most and allows me to more effectively work on your behalf in the Legislature. I hope to see you there!
Below are the dates scheduled from now through March:
January
Jan. 28, 7:30-8:30 a.m. at Fay's Evelyn Bay Coffee Shop in Charlotte
February
Feb. 4, 7:30-8:30 a.m. at Swede's Restaurant in Mulliken with special guests County Commissioner Rob Piercefield and County Treasurer Bob Robinson
Feb. 8, 7:30-8:30 a.m. at Sophia's House of Pancakes in Grand Ledge
Feb. 21, 5:00-6:00 p.m. at Joe's Gizzard City in Potterville (HAPPY HOUR)
Feb. 22, 7:30-8:30 a.m. at MorningLory Café in Dimondale
March
Mar. 7, 6:00-7:00 p.m. at Maple Leaf Inn in Vermontville (HAPPY HOUR)
Mar. 11, 7:30-8:30 a.m. at Willowtree Coffee and Bakery in Olivet
Mar. 18, 7:30-8:30 a.m. at Robin's Nest in Eaton Rapids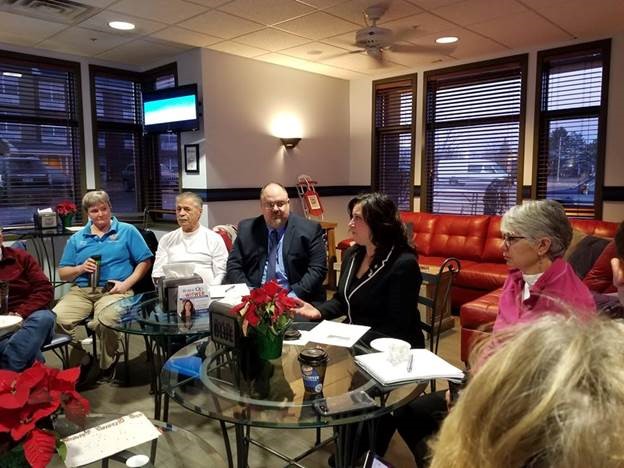 State Rep. Angela Witwer (Delta Township) holds her first coffee hour at Cops and Doughnuts in Delta Township.
Legislative Update
The 100th Legislature convened for the first time on January 9, 2019. So far, not much has happened legislatively, short of a handful of resolutions and bill introductions. The most exciting part so far, however, was receiving our committee assignments for the 2019-2020 term. I'm looking forward to serving on both the Health Policy Committee and the Agriculture Committee for the next couple years to help craft sound public policy. Stay tuned for further legislative developments as we get deeper into this session.
Local Business Feature: Fay's Evelyn Bay Coffee Shop, Charlotte, MI
Nestled in downtown Charlotte resides locally owned business, Fay's Evelyn Bay Coffee Shop. With the aroma of fresh baked pastries and roasted coffee in the air, you will soon be greeted by the friendly faces of staff and of the owner of four years, Erica Limas.
Erica and her family have grown with the cafe, working behind the counter regularly before both her sons joined the military. Her oldest is now a marine for the United States Marine Corps and her youngest son joined the United States Army a few years later.
Fay's Evelyn Bay Coffee Shop is a family-owned business that began nine years ago with Erica's mom. Now it is the go-to spot for live music and entertainment, meetings, or catching up with friends and family. We are thrilled to have our next coffee hour at the heart of Charlotte's thriving community on Jan. 28 at 7:30 a.m.
Constituent Contact
As always, please don't hesitate to reach out to my office with any concerns over pending legislation, issues you're having with state government agencies, or just want to chat with me or my staff. Since taking office, we've been contacted by more than 75 constituents voicing their opinion on issues ranging from medical marijuana to the Line 5 pipeline. We also held the first of many coffee hours at Cops & Doughnuts in Delta Township on January 14 where we had over 20 constituents join us for a great conversation.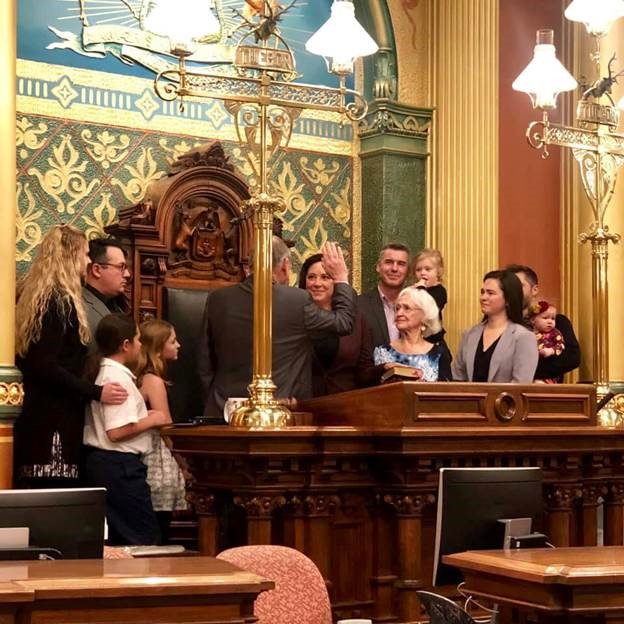 State Rep. Angela Witwer (Delta Township) is sworn in at the Capitol in Lansing.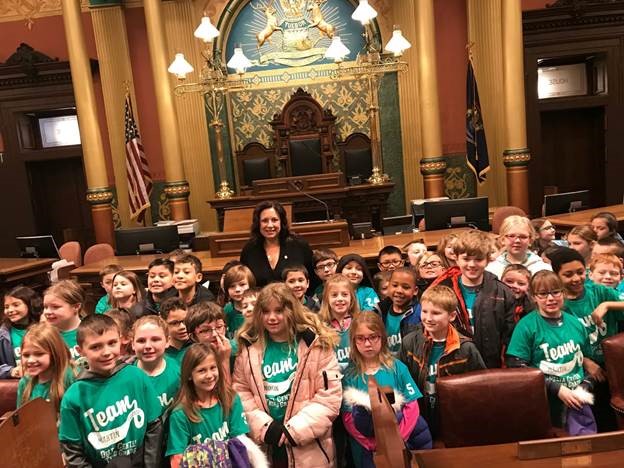 Students from Grand Ledge Delta Center Elementary touring the Capitol with Rep. Witwer.
Sincerely,
State Representative Angela Witwer
71st House District